Ledly King's Knees (+ All Other Body Parts) Released From England Squad
March 24th, 2009 | by: Daryl |

View Comments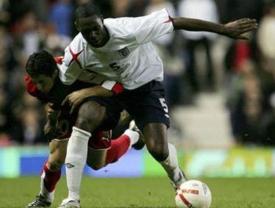 Well, that didn't last long did it? Two days after being called up to the England squad, and one day after Harry Redknapp's media campaign, Ledley King has been sent back to Spurs.
The problem – as ever – is his knees. Every time Kings plays, his joints swell up. So he trains separately (lots of weight-lifting and swimming apparently) and waits for his knees to recover for the next game. Basically, he's the new Paul McGrath.

Here's Spurs boss Harry Redknapp in The Sun:
"It's a ridiculous situation, really. Ledley can't train and, if he does train, it will be seven days before he can play and do anything again.

"If he plays next Wednesday against Ukraine there is no chance he can play for us against Blackburn on the Saturday – no chance. I don't see how he would play in an international tournament, so in the long term I don't understand the decision.

"This international week was the best opportunity he has had to rest. If he plays next Wednesday, it is disrespectful to us. It's not going to help him or anybody else. If Ledley's career has to finish because he has been pushed, who's going to look after him? It's crazy. I don't see how he can play. I don't see how it can work."
And here's the FA's statement:
"Ledley King has returned to Spurs Lodge to continue his rehabilitation over the course of the international break, following discussions and assessments overnight by the medical staff of both the club and the England national team.'

"It has been agreed by both parties that the best interests of the player are served by continuing his individual training programme at the club and he will play no further part in England's preparations or participate in the friendly against Slovakia or the World Cup qualifier against Ukraine."
No doubt Redknapp was looking out for himself with his media bombardment. But got to say…. he's mostly right. King's fitness is always on a knife edge. So the international break is probably a good time for him to take a break. And in the long run, if King needs a week between games then he isn't a player you can take to a World Cup.
I'm a little worried that Capello didn't seem to recognize the extent of King's problem, and very sad for King that – barring some sort of knee joint miracle cure – his international career is basically over.
Subscribe

England Football Team World Cup Blog RSS Feed

Share
blog comments powered by Disqus