Fabio Capello's Secret Weapon
June 21st, 2009 | by: Daryl |

View Comments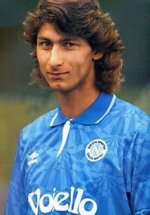 Sitting back in a swivel chair for a Sky Sports interview, Fabio Capello revealed one of the secrets behind his near-miraculous turnaround of this England team:
"Always at half-time when we go into the dressing room the first thing I say is: 'Take five minutes, have a drink, change your shirt and please no one speak. Just relax.'

"Because if you speak when you go into the dressing room then the stress of the first half is too strong. For five minutes, you need to be quiet and relax – after that we speak about what we have to do for the second half. This is my secret."

I might be reading too much into it, but this little nugget of information seems to reflect the more disciplined and thoughtful approach Capello has brought to our team. I can imagine under McClaren that John Terry would slam the door and yell expletives and half-time would be spent getting worked up.
But seems Capello makes sure everyone chills out first, before focusing on what needs to happen in the second half.
It's also nice to see Capello at ease talking to the media (I suppose 7/7 WCQ wins will do that). Here's a brief YouTube clip from the same interview (where he talks about the importance of having some Englishmen on his coaching staff) which gives you an idea of just how how relaxed the bossman was during the interview.
Subscribe

England Football Team World Cup Blog RSS Feed

Share
blog comments powered by Disqus