Can Somoene Explain Why Theo Walcott is in the England Under 21 Squad?
March 19th, 2009 | by: Daryl |

View Comments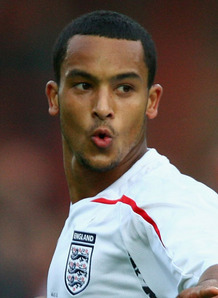 Stuart Pearce has named an exciting looking England Under 21 squad for the friendlies against Norway (March 27th) and France (March 31st), which he's using to prepare for the Under 21 Euros in Sweden this summer (we're in Group B with Spain, Germany and Finland).
Slightly puzzling to me is the inclusion of Theo Walcott. Didn't the lad officially graduate from Under 21 duty with that hat-trick in Zagreb?

Full under 21 squad (via UEFA.com)
Goalkeepers: Joe Hart (Manchester City FC), Scott Loach (Watford FC), Joe Lewis (Peterborough United FC)**.
Defenders: Kieran Gibbs (Arsenal FC)*, Michael Mancienne (Chelsea FC), Nedum Onuoha (Manchester City FC), Micah Richards (Manchester City FC), Andrew Taylor (Middlesbrough FC), Steven Taylor (Newcastle United FC), David Wheater (Middlesbrough FC).
Midfielders: Lee Cattermole (Wigan Athletic FC), Craig Gardner (Aston Villa FC), Tom Huddlestone (Tottenham Hotspur FC), Adam Johnson (Middlesbrough FC), Aaron Lennon (Tottenham Hotspur FC), James Milner (Aston Villa FC), Fabrice Muamba (Bolton Wanderers FC), Mark Noble (West Ham United FC)**, Jamie O'Hara (Tottenham Hotspur FC), Jack Rodwell (Everton FC)**, Theo Walcott (Arsenal FC).
Forwards: Fraizer Campbell (Tottenham Hotspur FC), Matt Derbyshire (Olympiacos CFP), Sylvan Ebanks-Blake (Wolverhampton Wanderers FC), Daniel Welbeck (Manchester United FC)**.
*Norway game only
**France game only
Great to see young Rodwell and Welbeck in there (both aged just 18) as well as some more experienced players like Taylor, Wheater, Richards, Milner, Noble etc. Really encouraging to see just how many Premier League first team regulars we have available.
But does Theo Walcott really need to be in this squad?
The proper team (as I call it) has a friendly vs Slovakia on March 28th, and then a big World Cup qualifier at home to Ukraine on April 1st. I know Walcott is coming back from an injury, but he's either fit enough to play or he's not.
If he's fit enough, he should be in the proper squad. If he's not, then he should have a nice week off to rest.
The only reason I can see for this is that Capello and Pearce are planning to name Walcott to the Under 21 squad for the Euros this summer. Not sure if that's a good idea or not. I guess he can't complain about burnout after missing the last three months, and it will definitely make the tournament a bit more exciting. But I can't shake the feeling that even a mostly fit Theo Walcott would be worth taking to Kyiv for April 1st.
Subscribe

England Football Team World Cup Blog RSS Feed

Share
blog comments powered by Disqus