Rooney to be fit for Montenegro, Carroll may make squad
October 1st, 2010 | by: Rob |

View Comments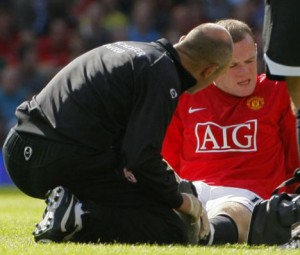 Wayne Rooney will apparently recover from his current ankle injury woes to lead the line in England's Euro 2012 qualifier against Montenegro, according to Sir Alex Ferguson. Rooney has been training, and wants to play in United's game tommorrow, but Fegie, taking Rooney's form this season into account is going to spare him.
Which means he should be fine for England's game next week, assuming Capello picks him His form, as mentioned has not been fabulous, so Capello might be tempted not to start Rooney, although we're not exactly packed to the rafters with quality replacements (we're already without Zamora and Defoe)
To that end Newcastle forward Andy Carroll looks like he is going to recieve his first England call up after being left out of the U21 squad . Carroll has been in form in the league, so it makes sense. Jack Wilshire has also looked pretty good for Arsenal,, but he's in the U21 squad, so make of that what you will.
Subscribe

England Football Team World Cup Blog RSS Feed

Share
blog comments powered by Disqus