Previewing England Vs France, and Where We Stand
November 16th, 2010 | by: Rob |

Comments Off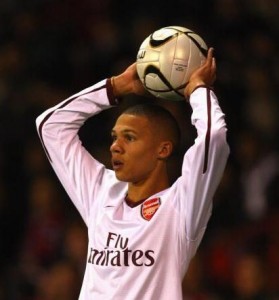 So England take on France tomorrow in a friendly. In times gone by this would be a Big Test to prove ourselves against a quality opposition to keep our ambitions in check while we coasted in qualifying.
But it isn't like that now. For a start, France have had a bad a time of it of late as we have. The song that caught our imagination during the World Cup was Dave Henson's Gaga Parody At Least We're Not As Bad As France afterall.
After promising to just stop picking the same XI over and over (more on that in a bit) Capello has gone all out with youth, and tomorrow will hand Gibbs, Carroll and Henderson games. He's told fans we have to be patient with them, even if they're a bit rubbish as they adapt to international football.
The squad is decimated with injuries (as it always is at Friendly time) with John Terry, Wayne Rooney, Glen Johnson and Jack Wilshire all not able to play.Joe Hart is a doubt with a slight injury Capello isn't too worried about, and Phil Jagielka has the flu.

So, in this game we'll get to see a few players who may or may not be fringe players in future England squads basically. Mind you France also seem to be in limbo with Laurent Blanc claiming that France actually have no great players. He singles out Nasri, Ribery and Malouda as the closest, and they are close enough that you wouldn't want a makeshift England defence facing them. Oh.
Still, I can see why Fabio has picked a overly young squad to play the game. It is pretty meaningless (although I wouldn't want to be spanked 4-0 anyway) and it can give some youngsters a chance to prove that actually they can cut it, and maybe give them a taste of football of this level, give them something to shoot for in future.
The problem Capello faces is that no-one really understands the point of friendlies (still). They clearly exist to make a bit of money, and to give international teams a bit of continuity, but you get the feeling that no-one really loves them.
And if Fabio keeps chopping and changing then he looks indecisive, and starts capping new players for the sake of it. If he sticks with the same, he's picking the same old team.
He can't pick a team entirely based on form – there would be no continuity, as the players wouldn't get to know one another at international level and would play badly – he can't pick players too badly out of form either, and just pick on reputation though, as well we know how that ends.
The other problem with picking players based on form of course is squeezing them into teh system. Capello has got to find one that really works for him with the players that he has. I'm not sure he has to date.
The game is little more than a kickabout between two once-great nations then (although come back here tomorrow and we might have a knockabout liveblog with any luck) but it will be interesting to see how some of the younger players do against a team with some pretty decent names in it. I don't know if we'll win, but i'll probably settle for a good performance to be honest.
Subscribe

England Football Team World Cup Blog RSS Feed

Share
Comments are closed