England Squad Announced for the Friendly
November 15th, 2010 | by: Matilda |

Comments Off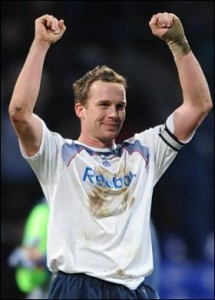 A quick warning before I really get into this post. I am a Bolton fan, and I am inevitably biased by this. I do try to remain clear-headed when writing for England WCB, but I know that my loyalties will come out. Apologies ahead of time.
Before we start, have a look at the final squad:
Keepers: Foster (Birmingham), Hart (Man City), Green (West Ham)
Defenders: Cahill (Bolton), Gibbs (Arsenal), Jagielka (Everton), Lescott (Man City), Richards (Man City), Ferdinand (Man Utd), Smalling (Man Utd), Warnock (Aston Villa)
Midfielders: Walcott (Arsenal), Wilshere (Arsenal), A Young (Aston Villa), Gerrard (Liverpool), Barry (Man City), Johnson (Man City), Milner (Man City), Henderson (Sunderland)
Strikers: Bothroyd (Cardiff), Carroll (Newcastle), Crouch (Tottenham), C Cole (West Ham)

This is slightly different than the original squad released, however Gary Cahill, Stephen Warnock, and Carlton Cole have been called up for the injured John Terry, Ashley Cole, and Gabby Agbonlahor. I won't lie, when I saw the original squad, I was extremely angry. I still have a difficult time seeing Capello's logic in several choices, mostly the exclusion of Kevin Davies and Gary Cahill (although, obviously he's now included). It's clearly a squad focussed on the developing for the future, and I'm in support of that, but even granting him that, he went a little too far into development.
The main inclusions I have a beef with are Jay Bothroyd and Chris Smalling. This may sound like an elitist position, and I've already been chastised on Twitter for having it, but I stand by the fact that if you play in the Championship, you are not of international quality. If at 28, you're still at Cardiff City, you are simply not good enough. I realise he's in form, but being in form in a lower quality league does not necessarily translate to the international level. Now England is not exactly a high quality establishment at the moment and it is just a friendly, but I think that we should maintain some level of standards.
On that same theme, Chris Smalling may be a Manchester United player, one of the best clubs in England, but he's had 22 minutes of game time this season. We all know that game time is irreplaceable. You can train all you like, but if you're not put into the infinite unpredictable situations a game presents, your split second decision making will never be up to scratch.
Now, it is probably not a coincidence that the two players I chose to pick on happened to be in positions that my darlings play in, but I stand by my points. I simply can not understand Capello's thought process in those two decisions. I may be proven wrong on Wednesday, and for the future of England I rather hope I am. The squad as a whole doesn't look too bad, and I reckon we can give France a game with those players, but it's decisions like Smalling and Bothroyd which makes me question Capello.
Subscribe

England Football Team World Cup Blog RSS Feed

Share
Comments are closed