England Flashback: Terry Butcher Drenched in Blood
February 23rd, 2009 | by: Daryl |

View Comments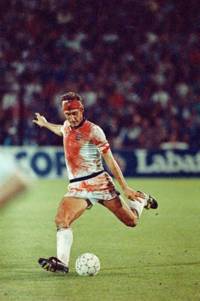 It's tough to find things to write about between games on England WCB, so we're starting a new feature called England Flashback, where we revisit some big moments in the history of the Three Lions.
Not just the glorious moments, but the heartbreak too (of which there is plenty). But to kick us off, we'll start with one of my favourites: Terry Butcher donating blood for England's successful 1990 World Cup qualification campaign.

It was September 6th, 1989 in Stockholm, Sweden. We needed a point to qualify for Italia '90, which is exactly what we got with a 0-0 draw, in no small part thanks to Terry Butcher in central defence.
Butcher suffered a head wound early in the game, which was hastily stitched up and bandaged by the physios. But Butcher kept on heading the ball away, which reopened the wound.

Here's what Butcher looked like by the end of the game: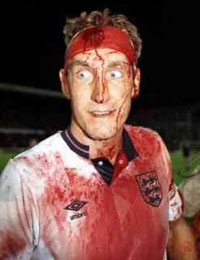 It's not just the fact that he's covered in blood, it's the wild look in his eye – exaggerated by the flash from the cameras – that makes this such an iconic moment.
Was it clever? Probably not. And there's no way a ref would let him keep playing in the 21st century. And the white shirt maybe makes it look a bit more dramatic than it really was.
But you can't argue with the fact that Butcher knew he had an open head wound but kept heading away Swedish attacks regardless. I get the feeling he'd head away a brick if it dared enter the English penalty area.
We actually finished second in the group, a point behind Sweden. But – incredibly – we went through the entire qualification group without conceding a goal, which had a lot to do with Terry Butcher as captain and centre-half.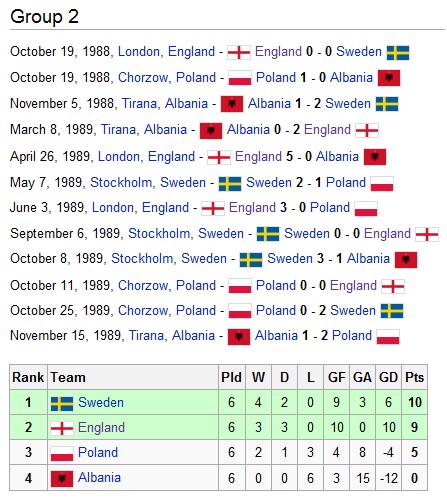 Butcher's heroics are already part of football folklore. Have a look at these Sydney FC fans who wore bloodies England shirts and bandages in tribute to their then manager in 2007: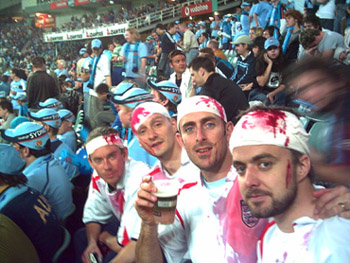 And got to love this Subutteo version I found on Flickr: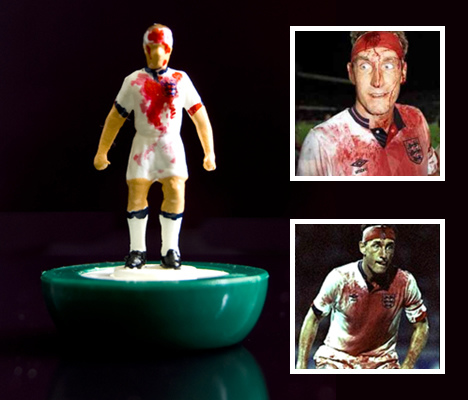 Paul Ince even staged his own Butcher homage during the '98 World Cup qualifier vs Italy in 1997: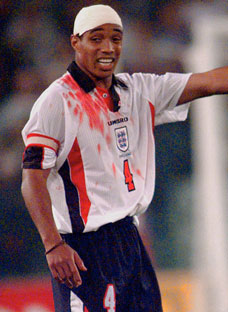 But as an archetype of brave English centre backs who'll give anything for the England cause, nothing beats Terry Bucher covered head to toe in his own blood.
Subscribe

England Football Team World Cup Blog RSS Feed

Share
blog comments powered by Disqus