England Flashback: David Platt's Volley vs Belgium at Italia '90
December 10th, 2009 | by: Daryl |

View Comments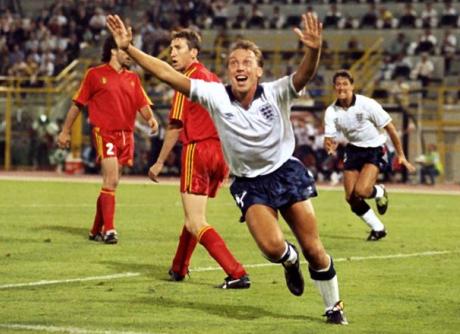 Let me take you back to World Cup Italia '90. England had narrowly won Group F and had been drawn against Belgium in the round of 16. The game was goalless at 90 minutes, and still goalless with extra time about to run out. Penalties loomed.
But in the 119th minute, Gazza dribbled straight at the Belgian defence. He was fouled. He got up to take the free kick himself, and chipped it into the area towards 23 year old Aston Villa midfielder David Platt, who had come off the bench to replace Steve McMahon in the 71st minute. Platt waited and waited for the ball to drop before turning and striking it on the volley. Take a look:
That gave England a 1-0 win, and sent us on to the World Cup quarter-finals to face Cameroon (though that's a whole other flashback post).
Platt played one more season at Aston Villa before heading back to Italy to play for Bari, Juventus and Sampdoria. He won a UEFA Cup with Juve and the Coppa Italia with Samp. Definitely one of the more successful England internationals to play in Serie A.
Platt also went on to captain England during the Graham Taylor era. Though the less said about that the better. If you really want to relive those years, then give this documentary a watch.
Here's three minutes and 24 seconds of highlights from that England vs Belgium game, including Gazza picking up a yellow card that we'd all regret two games later.
For more England Flashbacks, click here. If you have suggestions for other England Flashbacks you'd like us to post about, let us know in the comments.
Subscribe

England Football Team World Cup Blog RSS Feed

Share
blog comments powered by Disqus